Scots Language Awards 2019: Jock's Jocks (book and play)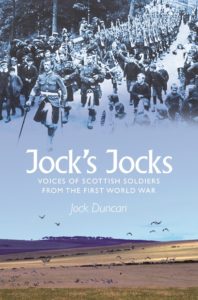 Jock's Jocks (book and play) were nominated in "Scots Project o the Year" in the Scots Language Awards 2019, with the results announced in an event held in Glasgow on Friday 27 September.  While not the winner, it was announced that "Jock's Jocks got loaaadz of votes. It was a very close run thing!".  Thank you to those who voted.
Jock's Jocks is a project which is based on an extensive collection of First World War memories collected by Gordon Duncan's father, Jock Duncan, in rural lowland Scotland, primarily in the north east. Collected between the 1930s and 1980s, Jock spent many thousands of hours transcribing these testimonies of 59 veterans, taking great care to capture the nuances of their native north east Scots tongue. The Jock's Jocks project has been led by GDMT Trustee Gary West, who edited the collection for publication, and who wrote a one act musical play based on the material, with a cast of Scott Gardiner, Chris Wright, Charlie West and Gary himself.
The book was jointly published by the EERC at the University of Edinburgh and the National Museums of Scotland in April 2019, and has been described as being 'of national significance'.  It is available for purchase in our online shop.
Jock Duncan himself enjoyed a successful career as a traditional singer of note, and has been admitted to the Scottish Traditional Music Hall of fame, along with his sons, Pipe Major Ian Duncan and the late Gordon Duncan.
Keep an eye on our Twitter, Facebook and Instagram feeds on social media for other forthcoming events.